Prepare for an extraordinary adventure as you embark on a hot air ballooning experience in Dubai, where you'll witness the city's stunning landscapes from a unique and exhilarating perspective. Drift gracefully through the sky, propelled by gentle winds, as you take the breathtaking sights and create lifelong memories. Hot air ballooning offers a serene and awe-inspiring journey that will leave you with a profound appreciation for Dubai's natural and architectural wonders.
Preparing for Flight: Arrive at the launch site before sunrise, where you'll witness the balloon's colorful fabric come to life as it inflates and towers above you. Meet your experienced pilot and receive a safety briefing before entering the spacious basket. As the sun peeks over the horizon, you'll feel a sense of anticipation and excitement for the journey ahead.
Floating Above Dubai: As the hot air balloon gently lifts off the ground, you'll ascend into the sky with a feeling of weightlessness. Marvel at the breathtaking vistas that unfold before your eyes as you soar above Dubai's iconic landmarks and natural landscapes. Admire the glittering cityscape, with its towering skyscrapers, including the Burj Khalifa, and the winding waterways of Dubai Creek. Be captivated by the vastness of the Arabian Desert, with its golden sand dunes stretching endlessly.
Serene and Peaceful Experience: Experience a sense of serenity and peace as you glide through the air in the hot air balloon. Embrace the tranquility and the silence interrupted only by the occasional bursts of the burner. The gentle movement of the balloon creates a feeling of weightlessness and allows you to appreciate the vastness and beauty of Dubai's surroundings. This peaceful escape from the bustling city below offers a moment of tranquility and a chance to connect with the beauty of the natural world.
Spectacular Views: From the unique vantage point of a hot air balloon, you'll be treated to breathtaking views that are unparalleled. Watch as the city comes alive with the soft glow of the sunrise, casting a golden hue over the landscape. Take in the panoramic vistas of the Arabian Desert, with its rolling sand dunes that create mesmerizing patterns beneath you. Capture stunning photographs and immerse yourself in the sheer beauty that Dubai has to offer.
Post-Flight Celebration: After your serene descent back to the ground, celebrate your hot air ballooning experience with a traditional champagne toast. Reflect on the incredible journey you've just undertaken and cherish the memories created. Receive a personalized certificate as a memento of your unforgettable adventure above the Dubai skies. Share stories with fellow adventurers and bask in the sense of accomplishment from having experienced hot air ballooning.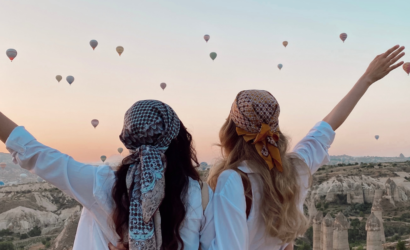 Experience the thrill of a lifetime with our Deluxe Hot Air Balloon Ride as we take you on an exhilarating...
Experience the thrill of a lifetime with our Deluxe Hot Air Balloon Ride as we take you on an exhilarating...